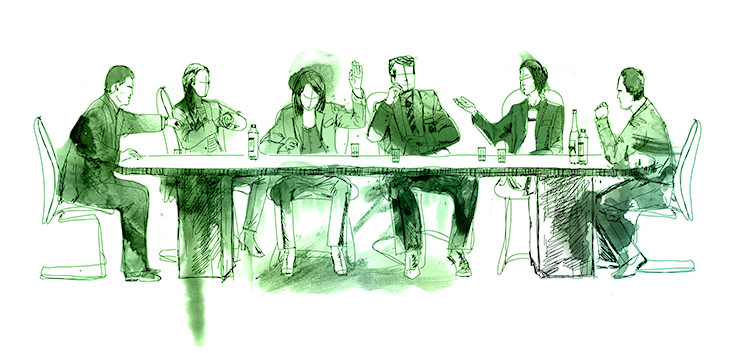 In 1985, states joined together to launch the National Association for Medicaid Program Integrity (NAMPI). Their intent was to create national Medicaid program integrity through the channeling of funds for required services.
Today, NAMPI encompasses all 50 states. Members are from various professional disciplines, including but not limited to, attorneys, nurses, contractors, investigators, managed care staff and pharmacists. Within our website is a National Directory providing information about NAMPI members and affiliates. Their primary task focuses on instances of fraud and abuse in the Medicaid Medical Assistance Program.
We are excited by the prospect of all that we are doing within the organization and look forward to the future of NAMPI with you as a partner.
The National Association of Surveillance and Utilization Review Officials (NASO) began in 1985 when a Group of Medicaid Program Integrity officials met to discuss how they could improve communication and information sharing among the states. These officials determined a method of connecting professionals responsible for Medicaid surveillance and utilization review functions through a single organization. NASO was founded and included one voting member from each of the 50 states. Voting members were limited to Medicaid single state agency staff or SURS Program Integrity Units. Other interested individuals were allowed to attend meetings and conferences sponsored by NASO. The first officers were elected from that group, and subsequent officers have been elected at each Annual Meeting. The officers include the president, vice-president, secretary, treasurer and chair of the regional representatives. In 2006, NASO changed its name to NAMPI, to better reflect it mission. Since its inception, NAMPI membership has grown to more than 200 members.
Our Objectives
Actively participate in monitoring trends in Medicaid policy that affect the utilization of Medicaid services
Act as a single body in the presentation of information to other associations, federal and state agencies
Actively support member states by sharing information through a regularly published Newsletter
Prepare and disseminate an Annual Report of the membership's accomplishments
Encourage all states to participate in the membership of the organization
Enhance membership participation in the organizationally sponsored Annual Conference
Create an atmosphere within membership to have connectivity and promote synergy
president
Kelly Bennett
Florida Agency for Health Care Administration
Chief, Medicaid Program Integrity, Office of the Inspector General
Kelly Bennett has been a member of the Florida Bar since 1997 and is a Certified Fraud Examiner (ACFE), Certified Inspector General (AIG), and an Accredited Health Care Fraud Investigator. She has been at the Agency for Health Care Administration since 2001 and has served in several roles, including as a Senior Attorney within the Medicaid Division of the Office of the General Counsel, the Assistant Bureau Chief for the Bureau of Medicaid Program Integrity, the Agency's Medicaid Fraud Liaison, and is currently the Chief of Medicaid Program Integrity, where she has served since July of 2014.
vice president
Vanessa Templeman, CPC
arizona health care cost containment system (ahcccs), office of inspector general (oig)
deputy inspector general
Vanessa Templeman is the current Inspector General for the State of Arizona. Vanessa has 18 years of experience in the health insurance industry spanning both private and government sectors. Vanessa has been involved with NAMPI since 2019 when she first was a Regional Representative prior to becoming the Regional Representative Chair. 
Secretary
Joan Senatore, JD, CFE, CHC
Massachusetts Executive Office of Health and Human Services
Director, MassHealth Compliance, Office of Program Integrity
Joan Senatore has over twenty years' experience working in the Medicaid Program Integrity arena. Currently Senatore is the liaison for Bureau of Special Investigation (member/beneficiary fraud) and the Medicaid Fraud Division, Office of the Attorney General (provider fraud) as well as overseeing the member integrity unit for the MassHealth agency. Senatore started her career working in the Massachusetts Medicaid Fraud Control Unit, Office of the Attorney General. Senatore is a licensed attorney in Massachusetts and received her Juris Doctorate from New England School of Law. She holds a Bachelor of Science and Master in Business Administration degree from the University of Massachusetts, Boston. Senatore serves on the Board of Directors of the Boston Chapter of Certified Fraud Examiners developing training for its members and serves on the faculty at the Medicaid Integrity Institute. She is also the former President of the National Association for Medicaid Program Integrity for 2011-2014.
Regional representatives chair
Dale Carr
missouri medicaid audit & compliance
director
Dale Carr is the Director of the Missouri Medicaid Audit & Compliance which has overall responsibility for Program Integrity within the Missouri Medicaid program known as MO HealthNet. Dale has been with MMAC since 2011. Dale was previously a police officer in the State of Nevada for eight years and a federal investigator with the U.S. Coast Guard and U.S. Attorney's Office for 19 years. Dale is a graduate of the FBI National Academy and holds a Bachelor's Degree in Criminal Justice Administration. Dale is also a gentleman farmer and helps his wife Janeta with their eight horses.
immediate past President | interim treasurer
Lori Stiles
Idaho Department of Health and Welfare
Manager, Medicaid Program Integrity, Bureau of Audits and Investigations
Lori Stiles is the manager of Medicaid Program Integrity for the Idaho Department of Health and Welfare. She has worked in Medicaid program integrity for over 20 years. Prior to working for the state, she worked for 11 years in numerous program integrity management positions for CIGNA, the previous Part B Medicare carrier for Tennessee, North Carolina and Idaho. She is a certified professional coder. 
NAMPI REGIONAL REPRESENTATIVES
PAST PRESIDENTS & CONFERENCES
1st 1985 [Denver, CO]
Marianne Seddon (CO)
2nd 1986 [St. Paul, MN]
Marianne Seddon (CO)
3rd 1987 [Clearwater, FL]
Jim Campbell (MN)
4th 1988 [Dearborn, MI]
Margaret Ross (ME)
5th 1989 [Niagara Falls, NY]
Rita Biddle-Bouma (MI)
6th 1990 [Kellispell, MT]
Mike Zegarelli (NY)
7th 1991 [Austin, TX]
Marianne Seddon (CO)
8th 1992 [Charleston, SC]
Carolyn Jordan (SC)
9th 1993 [Bismarck, ND]
Bruce Gomez (LA)
10th 1994 [Seattle, WA]
Yvonne Wood (TN)
11th 1995 [Nashville, TN]
Patsy Meek (AL)
12th 1996 [New Orleans, LA]
Jim Dyer (OH)
13th 1997 [Portland, ME]
Jim Dyer (OH)
14th 1998 [Bloomington, MN]
John Walter (PA)
15th 1999 [Kansas City, MO]
Tom McKeever (MN)
16th 2000 [Jackson Hole, WY]
Marc Fecteau (ME)
17th 2001 [Boston, MA]
Anne Cybulski (WY)
18th 2002 [Savannah, GA]
Don Gregory (LA)
19th 2003 [Santa Fe, NM]
Carlis Faler (MS)
20th 2004 [Bismarck, ND]
Carlis Faler (MS)
21st 2005 [Columbus, OH]
Alan White (WI)
22nd 2006 [Lexington, KY]
Alan White (WI)
23rd 2007 [San Diego, CA]
Alan White (WI)
24th 2008 [Williamsburg, VA]
Heidi Robbins Brown [WA]
25th 2009 [Portland, ME]
Heidi Robbins Brown [WA]
26th 2010 [New Orleans, LA]
Heidi Robbins Brown [WA]
27th 2011 [Denver, CO]
Alex Yei [UT]
28th 2012 [Oklahoma City, OK]
Joan Senatore (MA)
29th 2013 [Baltimore, MD]
Joan Senatore (MA)
30th 2014 [San Antonio, TX]
Joan Senatore (MA)
31st 2015 [New Orleans, LA]
John McCormick (CT)
32nd 2016 [Baltimore, MD]
John McCormick (CT)
33rd 2017 [Miami, Florida]
Jacqueline Thomas (AL)
34th 2018 [Austin, Texas]
Jacqueline Thomas (AL)
35th 2019 [Atlanta, Georgia]
Lori Stiles (ID)
36th 2020 [Virtual COnnect]
Lori Stiles (ID)
37th 2021 [Virtual]
Lori Stiles (ID)
38th 2022 [baltimore, md]
Lori Stiles (ID)
39th 2023 [Scottsdale, AZ]
Kelly Bennett (FL)
THE NAMPI MISSION
To safeguard the fiscal, operational and program integrity of Medicaid programs while enhancing communication between members and other agencies, utilizing most current technology and methodology in the dissemination of collective information to members and the federal government.
NAMPI MEMBERSHIP
Become a NAMPI Member today!
By joining the NAMPI Network you will receive up-to-date information regarding the National Association of Medicaid Program Integrity as well as access to member only resources on NAMPI.net.