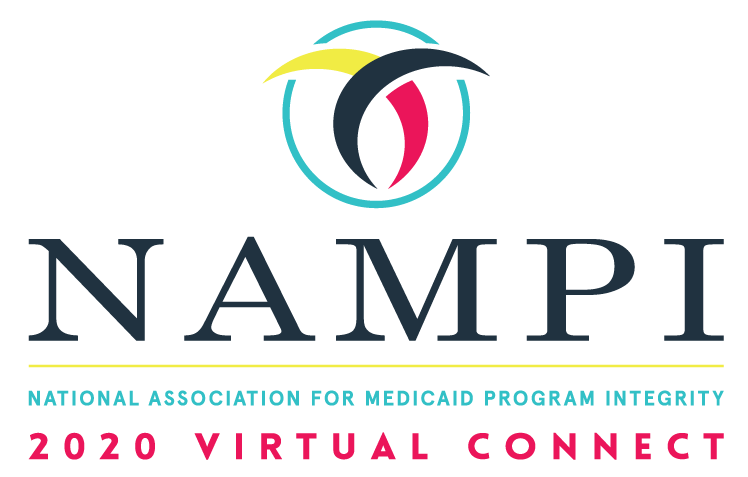 The NAMPI Board is excited to invite you to our 36th annual conference, NAMPI: Virtual Connect. Using a digital platform, we will bring together the leaders, decisions makers, and innovators in Medicaid program integrity for a new and exciting virtual experience.
You can process your registration here.
Welcome to NAMPI 2020: Virtual Connect
Already Registered?
The conference platform will be live starting Monday, August 17
Please Click Here to be Taken to the Conference Platform
What can you expect from NAMPI 2020: Virtual Connect?
Content developed and delivered by Directors and staff at PI units from across the country

Sessions from health policy and program integrity leadership (e.g., state PI leaders, CMS, and others) addressing critical issues that have a national impact

Presentations from PI partners (law enforcement, health plans and others), highlighting collaboration between sectors

Vendor presentations highlighting innovative approaches to combat fraud, waste, and abuse

A virtual exhibit hall and sponsor engagements designed for meaningful one-on-one interactions to discuss specific needs and problems

And of course, NAMPI would not be complete without our networking opportunities so that even virtually, you can enjoy a laugh, a good story, and a smile with your colleagues

Each of these components will combine in a fresh and innovative virtual experience that will bring us together for yet another fantastic NAMPI conference.
We are excited to be able to bring together the NAMPI community to share best practices, network and strenghten our community. If you have any questions regarding registration, including group pricing for 10 or more registrations, please contact Conference Management at 504-309-8965 or contact@nampi.net.
Registration Rates
All State and Federal Government employees, including MFCU: $100
Any Non-Government Employee – $200
Unfortunately, due to shipping timelines attendees who register after Tuesday, August 4, 2020 will not receive a physical conference box.  You will receive a virtual conference box with all printed materials.  We appreciate your understanding!
Please note: NAMPI will not issue refunds for attendee registrations. Registrations can be transferred at any time.
SPONSORSHIP OPPORTUNITIES
Don't miss out on this unique opportunity to get your message and brand in front of the top professionals in the Medicaid program integrity industry. Click on the button below for a list of all sponsorship opportunities for NAMPI 2020 Virtual Connect.
To secure your NAMPI 2020 sponsorship please,
click on the link below:
All NAMPI 2020 Conference attendees are able to apply for continuing education credits. The conference agenda is not approved by any official accreditation organization, but we are more than happy to process a certificate for you to submit to your professional organization for approval.
At the end of the 2020 conference a PDF form will be available for you to download and fill out for approval.
If you have any questions please contact Conference Management at (504) 309-8965 or contact@nampi.net.
THE NAMPI MISSION
To safeguard the fiscal, operational and program integrity of Medicaid programs while enhancing communication between members and other agencies, utilizing most current technology and methodology in the dissemination of collective information to members and the federal government.
NAMPI MEMBERSHIP
Become a NAMPI Member today!
By joining the NAMPI Network you will receive up-to-date information regarding the National Association of Medicaid Program Integrity as well as access to member only resources on NAMPI.net.